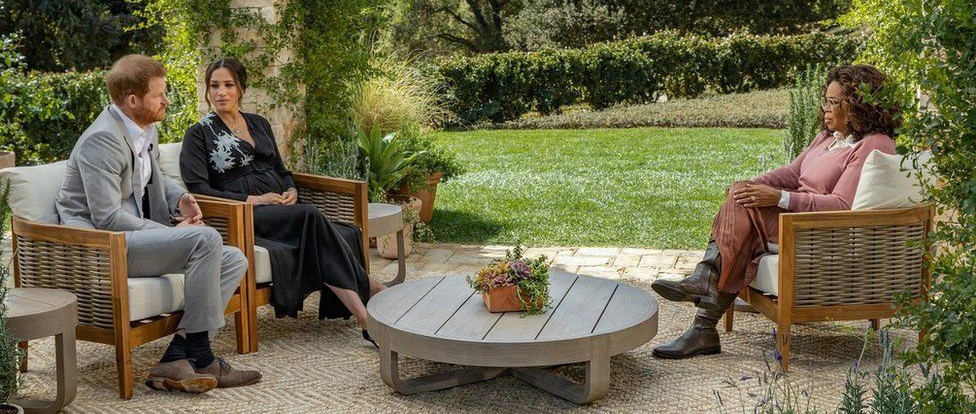 This article originally appeared on March 15, 2021 at Baptist News Global.
As Bishop Curry spoke about the power of love during Prince Harry and Meghan Markle's royal wedding in 2018, having recently joined the Anglican Communion myself, my heart was full. But when I watched Oprah's interview with Harry and Meghan last week, I was stunned at the parallels between Harry and Meghan's experience within "the institution" and the experience of many within the institutional church.
There are some like Beth Moore, who recently departed from the Southern Baptist Convention, who hold onto their conservative Christian faith while having to leave a specific denomination over any number of abuse-related issues. Others, such as Esau McCaulley, grow weary over having to argue over the same racist abuse of Black preachers that happened in the SBC and the Presbyterian Church in America and happening now in the Anglican Church in North America.
Others, such as popular comedians Rhett McLaughlin and Link Neal,  leave Christianity altogether for hopeful agnosticism. And there are many non-celebrities who have suffered so severely at the hands of the church who spiritually quarantine in silence.
My entire life, I have heard evangelicals longing for the next great awakening when the masses will have their eyes opened and come weeping through their doors in repentance. But the next great awakening already is here. It's happening with those who are already in the church doors. We are awakening to the harm of hierarchy. And like Harry and Meghan, we weep as we walk out the doors.
https://rickpidcock.com/wp-content/uploads/2021/08/117488694_bc5a31a8-8748-4045-aa21-b9cd58593c40.jpeg
414
976
Rick Pidcock
http://rickpidcock.com/wp-content/uploads/2021/08/transparent.png
Rick Pidcock
2021-03-15 01:29:18
2021-08-25 20:17:40
Oprah's interview with Meghan and Harry offers a lesson on when the 'institution' is the church