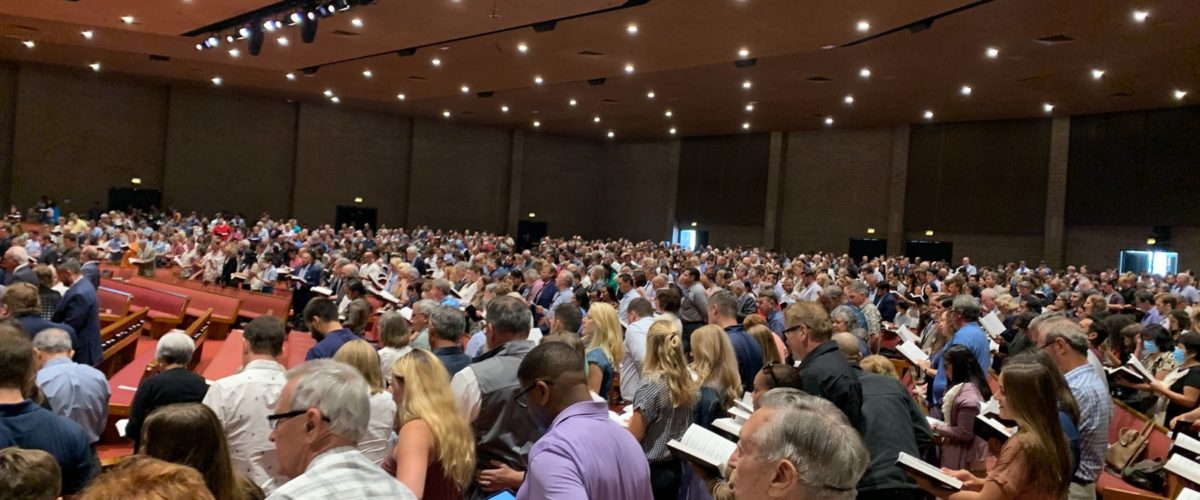 This article originally appeared on July 28, 2020 at Baptist News Global.
As he walked across the stage July 26 to the large, wooden pulpit, the auditorium that seats 3,500 people was filled with non-masked, non-socially distanced conservative evangelicals with another 1,000 people gathered outside who all jumped to their feet for a standing ovation.
The man who many evangelicals believe to be the greatest expositor of Scripture alive acknowledged the roar of the crowd and then got right down to business reading a passage from Psalm 19 and praying before the church joined together in a rousing rendition of "Come Christians, Join to Sing!"
A few days earlier, John MacArthur and the Grace Church elders released a statement saying they were going to disobey their government's temporary ban on churches gathering together. As might be expected from Grace Church, the statement was filled with Bible verses to prove every point. The statement used the word "authority" 31 times, "right" 13 times and some form of "head," "subject," "command," "rule," at least another 70 times.
https://rickpidcock.com/wp-content/uploads/2021/08/Ed5tikpUMAMIJrH-1200x500-1.jpeg
500
1200
Rick Pidcock
http://rickpidcock.com/wp-content/uploads/2021/08/transparent.png
Rick Pidcock
2020-07-28 01:26:53
2021-08-25 19:46:23
How John MacArthur loves the Bible but not his neighbor